EDA heads visit CNMI; assess progress on CNMI's EDA-funded projects
ANNOUNCEMENTS | May 04, 2023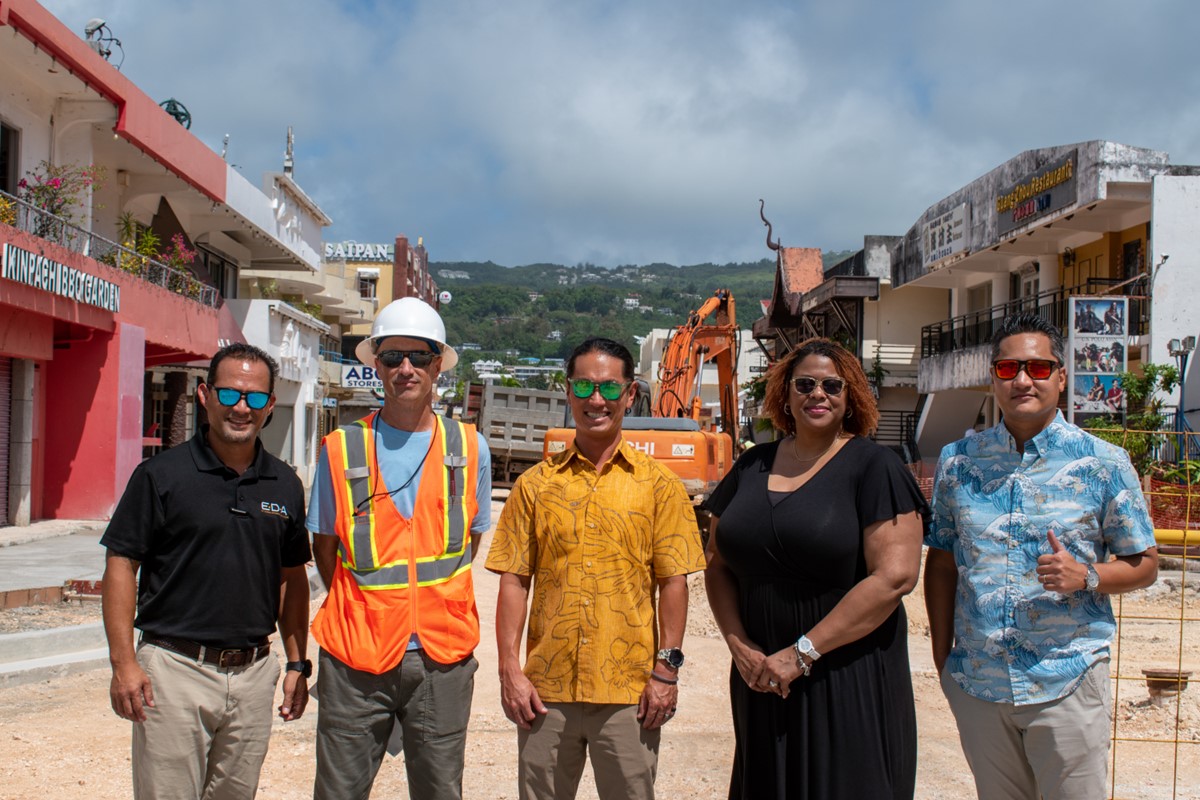 From left: U.S. Economic Development Administration (EDA) representative Joaquin Quenga, Project Manager Timothy Lang of TRL Architecture, EDA Pacific representative Keoki Noji, EDA Regional Director Sheba Person-Whitley, and Garapan Revitalization Taskforce Chairman Christopher A. Concepcion take a photo in front of Paseo De Marianas during a visit by the EDA to the Garapan Revitalization Project (GRP) site. (CNMI OFFICE OF PLANNING AND DEVELOPMENT)
On April 28, 2023, heads from the U.S. Economic Development Administration (EDA) and Pacific Basin Development Council (PBDC) visited the Garapan Revitalization Project (GRP) site at Paseo De Marianas. Garapan Revitalization Taskforce Chairman Christopher A. Concepcion and Project Manager Timothy Lang of TRL Architecture briefed the delegation on the plans to convert Paseo into a two-way street and hybrid event space, which is part of the ongoing Phase 1 of the GRP. This phase is expected to be completed by May 2023, while the whole project is expected to be finished by November 2024. The construction phasing plan can be viewed here: https://opd.gov.mp/public-notice-garapan-revitalization-project-commencing-jan-2023.html.
In 2021, the Office of Planning and Development (OPD) was awarded over $32 million in funding from the EDA to drive priority economic investments in the Garapan Revitalization Project (GRP) and the Oleai Sports Complex and Cultural Events Center projects. These premier initiatives under OPD seek to enhance the CNMI's tourism industry by improving vital roadways in Garapan and positioning the CNMI as a major destination for large-scale regional sporting events.
The CNMI's EDA-funded projects are critical to achieving Sustainable Development Goal (SDG) #11: Sustainable Cities and Communities in the CNMI. This SDG aims to make cities and human settlements inclusive, safe, resilient, and sustainable. To learn more about the SDGs and the CNMI's action plans to achieve them throughout this decade, please see the CNMI Comprehensive Sustainable Development Plan (CSDP) available here: https://opd.gov.mp/assets/2021-2030_cnmi_csdp.pdf.
The EDA is also funding several other notable projects in the CNMI, such as the Economic Recovery Resiliency Center Project, the Center for Research, Extension and Development Facility at the Northern Marianas College (NMC), the NMC College Workforce Development and Training Center, and the Northern Marianas Technical Institute Workforce Training Center.
The visiting delegation included EDA Regional Director Sheba Person-Whitley, EDA Pacific representative Keoki Noji, PBDC Executive Director Esther Kia'aina, and PBDC Program Director Jay Rojas.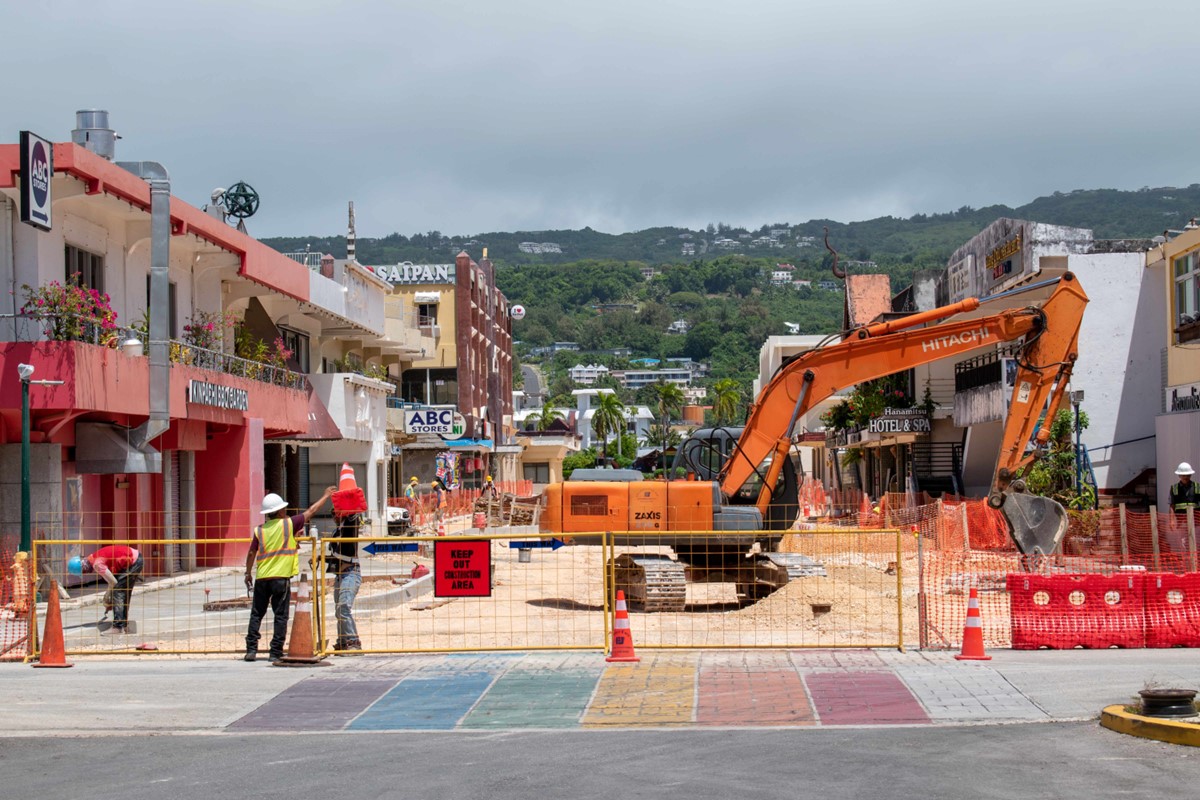 Construction work is ongoing to turn Paseo De Marianas into a two-way street and hybrid event space as part of Phase 1 of 4 of the Garapan Revitalization Project (GRP). This phase is expected to be completed by May 2023, while the whole GRP is expected to be finished by November 2024. (CNMI OFFICE OF PLANNING AND DEVELOPMENT)