CSDP Final Review by PDAC
ANNOUNCEMENTS | August 11, 2021
On July 22, 2021, the third round of public notice and comments closed on the draft Comprehensive Sustainable Development Plan (CSDP). The Office of Planning and Development is currently processing feedback to present the revised plan to the Planning and Development Advisory Council for finalization. Once endorsed, it will be submitted to Governor Torres for approval. Additional background about the CSDP is outlined here. If you have questions or comments you can always reach out to .
What is CSDP?
The Comprehensive Sustainable Development Plan (CSDP) for the Commonwealth of the Northern Mariana Islands (CNMI) identifies management priorities and provides strategic guidance to support the wise use of the CNMI's resources and to guide the future development. This living document aims to fulfill the mandates of Public Law 20-20 and create a structure that will support an adaptive management approach to achieving sustainability outcomes for the CNMI. In addition to detailing long-term visions, goals, and strategic objectives, the CSDP incorporates key short- and mid-term action items that reflect interagency priorities for efficient use of resources in the CNMI. Supporting guidance incorporates Smart, Safe, Growth principles and performance indicators for each of the seventeen integrated Sustainable Development Goals that have been refined to meet current and future needs in partnership with CNMI's leadership, technical support from government agencies, and stakeholders from the public and private sectors. As detailed further here and in the plan itself, the CSDP is a strategy to guide cross-cutting efforts to achieve one shared mission of building a more sustainable CNMI, guided by four themes, with goals and objectives for seventeen sustainability goals reflecting over twenty "planning elements". As of 2021, over twenty public meetings and more than 200 public comments have supported the creation of CNMI's first CSDP .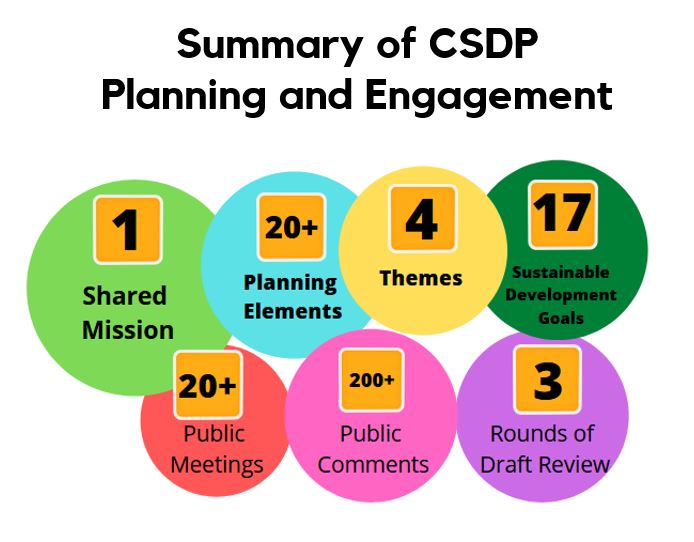 Long-term Sustainability Planning and Implementation
In 2017, Saipan Senator Arnold Palacios introduced a Bill aiming to achieve more efficient and sustainable resource management planning to the CNMI Legislature that was accepted and ratified which became known as Public Law 20-20. In 2021, addressing the Planning and Development Advisory Council (PDAC) at one of twenty public meetings that were held to develop and discuss the CSDP, now Lieutenant Governor Palacios detailed how this law created OPD and the PDAC to guide "important long-term sustainability planning efforts" in the CNMI.
Since OPD was created, the office has worked closely with the Administration, the PDAC, and numerous planning partners, to compile the Resources Report that was published in 2019 to reflect a snapshot of where we are and inform where we'd like to be going as the CNMI crafts its first long-term sustainable development plan. Since the publication of the Resources Report, OPD and the PDAC have aligned existing plans to reflect high-priority sustainability goals and objectives, as well as support priority implementation tasks. This includes facilitating the $56M CNMI-wide solid waste management planning effort to support compliant and sustainable consumption and production patterns, over $12M for habitat restoration, brownfields assessment, and beautification funding for Garapan, and the over $20M Oleai Sports and Cultural Complex project that will support socio-economic development now and for future generations. These and other implementation actions are reflected in and framed by the Draft Comprehensive Sustainable Development Plan.
Developing the CSDP – The Process and Next Steps
After working to collect, review, and compile existing plans from 2017 to 2018, iterative stakeholder planning sessions and draft review were conducted from 2019 through 2021 to develop CNMI's first CSDP. Baseline information was shared in the 2018 Draft Resources Report, which included plans and reports from all PDAC agencies as well as other CNMI planning partners, with draft review sessions culminating in the collection of over 100 recommendations across "planning elements" areas identified in Public Law 20-20. A revised Resources Report was shared in August 2019 along with a community visioning survey to identify cross-cutting visions or themes to reflect development priorities. Additional feedback and comments were included in recommendations revisions that were circulated with the PDAC and Planning Taskforces in October and December of 2019. This feedback was used to further support discussions of priorities for planning elements and identify recommendations to address identified challenges and opportunities.

The PDAC reviewed the draft report in January, 2020, revised the document for further between January and May, and met to review and endorse the final report in June, 2020 following a shifted meeting and review schedule due to COVID-19. Visioning feedback from community members was incorporated into the development of four guiding themes and the adoption of the United Nation's 17 Sustainable Development Goals. Indicators were selected for each goal to reflect "where we are" using data from the Resources Report as a baseline to inform metrics to measure our progress as we work towards numerous cross-cutting objectives. Supporting work plans with short- and mid-term implementation goals were developed and are reflected in the "Implementation Plan" – Appendix I of the CSDP. This Appendix and the CSDP itself will continue to be reviewed and revised as needed through adaptive management processes. Between June 2020 and January 2021, plan components and the draft itself were developed further by OPD, the PDAC, and Taskforces Planning Partners. Public meetings held in November and December 2020 reflected support of the comprehensive and adaptive nature of the CSDP. The sustainability goals, supporting guidance, and cross-cutting implementation actions will be incorporated into other relevant planning documents and considered to guide and prioritize funding requests. Additionally, stakeholder meetings to review implementation progress will be held semi-annually, with the goal to hold "Taskforces Meetings" at least quarterly, and comprehensive updates to the plan will occur every 5 years to reflect changes in the status of the resources and strategic actions.
On January 21, 2021, the PDAC endorsed the draft CSDP document to support finalization, and a draft plan was published and shared. Additional meetings and revisions were circulated in Spring of 2021 and the PDAC met to review and endorsed the revised final draft for public notice and comment on June 7, 2021. Public meetings were held on Saipan, Tinian, and Rota in June and July, 2021. Additional comments were addressed in a final update which was provided to the PDAC for additional review on July 27, 2021. The CSDP was transmitted, reviewed, and approved by Governor Torres on October 26, 2021. This process reflects the adaptability of this living document to respond to community priorities while maintaining a focus on long-term development goals. It is a document that provides a starting point on a path towards a holistic vision of a sustainable CNMI. The overall goal of the CSDP is to help guide responsible sustainable resource management decision-making by using strategic planning processes (mission, vision, and goals), incorporating agency plans, and tracking progress to improve the lives of the people of the CNMI. With these goals in mind, the Office of Planning and Development will continue to work closely with a wide range of stakeholders to chart a path towards a more sustainable future.
Charting a Course Ahead
The CSDP is the overall plan for the future of the Commonwealth. It builds resiliency through smart, safe growth planning and guidance along with the integration of the United Nations' sustainable development goals that identify specific targets along with indicators to measure short-term and long-term progress. The CSDP targets three sectors – socioeconomic, built environment, and natural resources – that are vital and interwoven to cultivating a thriving CNMI. Furthermore, the CSDP supports increased effectiveness of private and public initiatives and fosters collaboration amongst all sectors. Together, with the continued support of our leadership and community at large, this plan will help to achieve our shared vision of a sustainable and thriving CNMI.