Solid Waste Management Planning for Sustainable Consumption and Production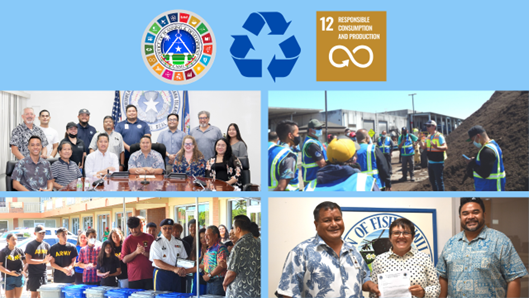 The Office of Planning and Development (OPD) in partnership with the Bureau of Environmental and Coastal Quality (BECQ); Department of Public Works (DPW); and the Offices of the Mayors of the Northern Islands, Saipan, Tinian, and Rota comprise the Inter-island Solid Waste Task Force (ISWTF).
The ISWTF, with support from the U.S. Environmental Protection Agency (EPA), works to achieve goals set for the CNMI within Sustainable Development Goal (SDG) #12: Sustainable Consumption and Production.
One critical goal under SDG #12 is to, by 2030, divert 50% of recyclables away from the CNMI's waste management facilities. The diverted recyclables will then be composted, reused, or sold to support sustainable waste management systems.
Read more about the other SDGs and the plans to achieve them in the CNMI in the CNMI Comprehensive Sustainable Development Plan (CSDP). View the CSDP here.
Learn more about recent ISWTF solid waste capacity building activities here. View OPD solid waste project updates in our newsletters found here.
Consider subscribing to our newsletter here.
Photos: Governor Ralph DLG Torres proclaims November 15 to 19, 2022 as CNMI Recycles Week; U.S. EPA representatives, ISWTF members, and CNMI leadership tour the Napa Recycling & Composting Facility as part of an EPA-hosted Zero Waste Training held in May 2022 in San Francisco, California; Mayor of Tinian and Aguiguan Edwin P. Aldan hands over recycling bins to the Tinian Junior Senior High School (TJSHS) Junior Reserve Officers' Training Corps (JROTC) "Stallion Battalion" during an America Recycles Day celebration on Tinian on November 15, 2022; EPA and OPD receive in July 2022 a conditional permit from the Division of Fish and Wildlife (DFW) for the Marpi Landfill Cell 2 Rehabilitation Project.